Product Name:

Cone Ribbon Mixer
Product detail: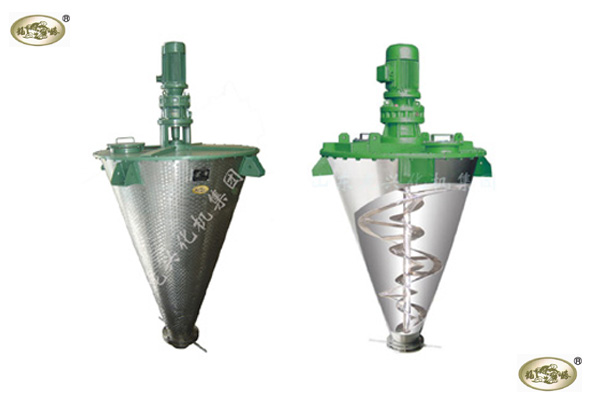 1.Descriptions:
The machine uses the rotation screws to completematerials'mixing and stirring,which will not grind and press the material topowder.The cantilever can make a sloe rotation along the barrel wall to pushthe material outside the screw entering into the stud in differentheights.These designs is not only helpful to fully stir and mix thematerial,but also helpful to hasten the material diffusion.
2.Performance characteristics:
(1)with a mixed space-conetype, barrel body there are two, three or single screw axis in the case of rotationalong the Tongbi another revolution, the motor gear power unit in a mixer, etc.top.
(2) mixed materials for large areas, the density ofthe mixed material deviation, deviation of requiring less stringent size, easycontrol of the friction material from the heat or from the electrostatic
(3) mixed materials, thedestructive effects of the crystal when small.
(4) mixing equipment, low power requirements, the same type ofequipment, electrical power greatly reduced.
(5) mixing time isrelatively long, large equipment manufacturing into a triple helix form, cangreatly shorten the mixing time.
(6)the main application of the double helix cone mixer with powder andpowder mixture of materials can be mixed to the liquid injected into a largenumber, but the whole process of mixing solid powder material embodied in theapplication case of dyes, MSG ,additives, such as plastic particles.