Product Name:

Double Screw Mixer
Product detail: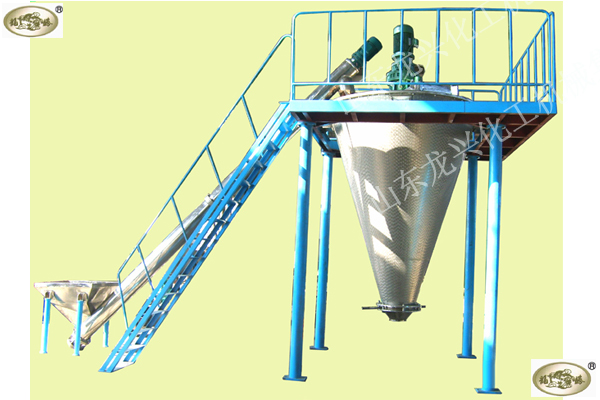 1.Working principles:
Double Screws ConeMixer is short for the cantilever Double Screws Cone Mixer.It is suitable for thesolid –liquid,solid-solid materials mixing.
The material barrel ofthe machine is an inverted cone,in which two non-symmetrical upgrading screwsare equipped.When the screw rotates,it will produce a lfting force to make thematerial to the upper of the barrel, and aggregates in the depression thenfalls down to fill up the vacancy.
2.Uses:
It is widely used in chemical, food,building materials, rare earth, food, pesticides and dye production industry.
3.Main technical parameters:
Type

DSH-0.3c DSH-0.3p

DSH-0.5c

DSH-0.5p

DSH-1c DSH-1p

DSH-1.5c DSH-1.5p

DSH-2c DSH-2p

DSH-3c DSH-3p

DSH-4c DSH-4p

DSH-6c DSH-6p

DSH-8c DSH-8p

DSH-10c DSH-10p

DSH-12c
DSH-12p

Full Volume

m3

0.3

0.5

1

1.5

2

3

4

6

8

10

12

Load Factor

0.6

0.6

0.6

0.6

0.6

0.6

0.6

0.6

0.6

0.6

0.6

Output(t/h)

0.3-1

0.5-1.5

2-2.5

2-4

2.5-5

3.5-8

5-10

7.5-15

10-12

12-25

15-30

Total Powerk(w)

A

3.55

3.55

4.55

4.75

6.05

8.05

12.5

16.5

20

20

23.5

B

2.2

3

4

5.5

5.5

7.5

11

15

18.5

18.5

22

Particle Size (mesh)

20-450

Mixing uniformity

Relative deviation <1.5%

Revolution

2

Rotation

A

143

57

70

B

143

57

Miximum Diameter

(mm)

930

1130

1500

1633

1830

2040

2250

2548

2780

3018

3204

Weight(kg)

550

600

1200

1350

1500

2300

2520

3160

3600

3950

4150