Product Name:

Weightless Mixer
Product detail: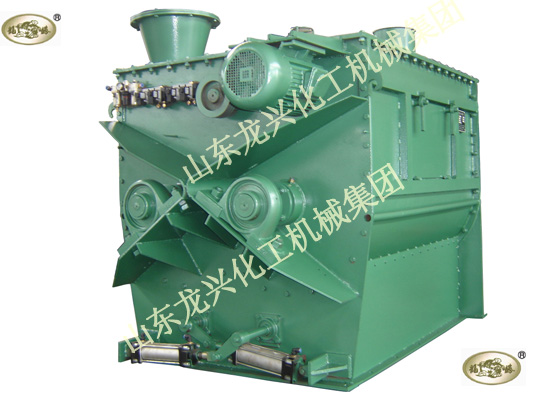 1.Working principles:
The machine is equipped with two stirringshafts with many blades on it.The blades rotate in opposite directions to forcethe material to make spiral movement.When the material reaches one side of themachine,the shafe will turn it over to the other side where there is anothershaft making the same movement.
When the crossed blades are moving,afluidizedweightlessness and rotation vortex is formed in the center of thechamber.According to the movement locus of the material in the weighelessnessmixer,the space can be devided into three zones:the rotation zone,therevolution zone (circumferential movement) and the weightless zone,which willform a full cycle to achineve the rapid mixing purpose.
2.Uses:
It is widelyused in chemical, cosmetics, fine chemicals, fertilizers, pesticides, metallurgy,mining, building materials, ceramics, refractories, dry mortar, food, feed,paint, dyes and other powders, solid-liquid, solid -slurry materials' mixing .
3.TechnicalParameters:
Type

Nominal Capacity

m³

Working Conditions

Mixing Uniformity

Particle Size (mesh)

Maximum Spray Volume

Each Stirring Kg

Motor Power Kw

Weight

Kg

WZL-0.25

0.25

Constant pressure, can be heated or cooled

Relative deviaton<4%

2min

20-500

<30%

150

4

750

WZL-0.5

0.5

250

5.5-7.5

1000

WZL-1.0

1.0

500

11-15

1500

WZL-1.5

1.5

750

11-15

1900

WZL-2.0

2.0

1000

15-18.5

2300

WZL-3.0

3.0

1500

18.5-22

2900

WZL-4.0

4.0

2000

22-30

3800

WZL-6.0

6.0

3000

30-37

5000

WZL-8.0

8.0

4000

37-45

6000

WZL-10

10

5000

45-55

7800