Product Name:

Liquid Ball Mill
Product detail: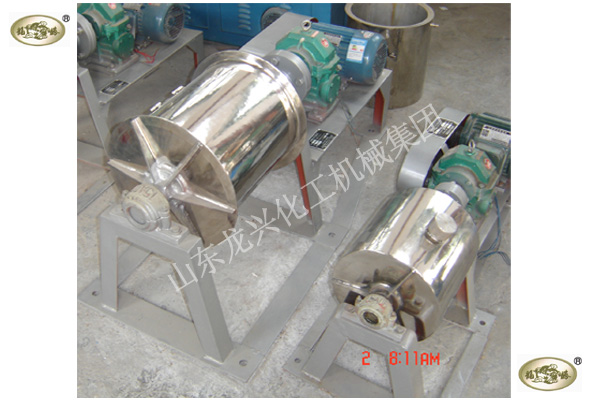 1. Working principles:
The output shaft of the speed reducer directly drives the stirring shaft to rotate through the coupling. The high-speed rotation of the stirring rod keeps the grinding balls and materials suspending in the liquid, and drives the balls to grind materials fast.
2.Features:
The equipment has a high-wear-resistant ceramic stirring rod or a cold hardening alloy stirring rod .The customer can choose the grinding medium depending on materials.The mixing barrel can be made of carbon steel, stainless steel or wear-resistant polyurethane lining .
This equipment consumes less power and do not have vibration problems.Its dispersion and crushing is very efficient,.It is suitable for ultra-fine grinding of the liquid-solid phase materials, especially for processing high-purity materials.
3.Uses:
It is widely used in electronic materials, magnetic materials, ceramic shaft grout, ink pigments, food, pharmaceutical and other industries.
4.Features:
(1) The liner of the barrel can be made of high wear-resistant polyurethane material, so that it could provide a reliable guarantee for processing high purity materials
(2) All materials you put in can be taken out at the bottom of the cylinder, so that the machine can provide a reliable guarantee for processing the homogeneous material. The cylinder has a cooling layer ,which can effectively reduce the temperature of materials in the cylinder and improve the grinding efficiency, especially for the high heat-sensitive materials.
5.Main technical parameters:
Type

50L

100L

200L

300L

500L

1000L

Materials Capacity(L)

25

50

100

150

250

500

Stirring Speed(r/min)

130

130

132

88

88

88

Main Motor Power(Kw)

3

7.5

11

11

15

30

Pump Motor Power(Kw)

1.5

1.5

3

3

3

3

Medium Ball Size(mm)

3-10

3-10

3-10

3-10

3-10

3-10

Medium Ball Device

40%-50% of the volume