Product Name:

Ceramic Three Roller Mill
Product detail: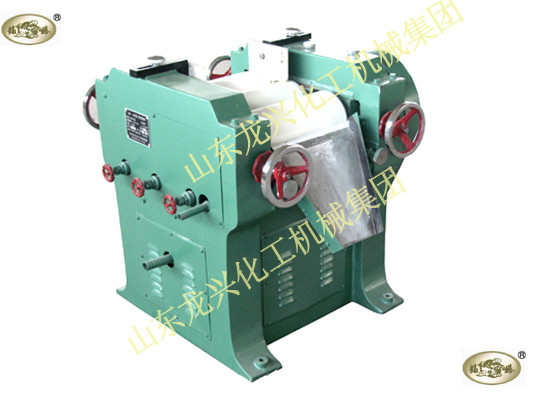 1. Working Principles:
The three rollers,with parallel arrangement,rotate at different speeds to mutually rub,squeeze,shear to grind the materials.
2.Uses:
The three roller mill is mainly used to grind all kinds of paints, printing ink, ink, paint pigments, paints, food, chocolate, cosmetics, medicine, and other paste materials (not including those mighe cause the corrosion of the rollers). In recent years, with the development of the cable materials, human leather plastics, soaps, and lead-producing areas ,therefore the device has become the major equipment for grinding these materials.
3. Features:
The three rollers of the machine are made of the cold hard alloy material and are grinded on the special convex abrasive machine, so that the effective working surface of the rollers are slightly convex. Because the rollers expand with heat and contract with cold, in the process of grinding the machine has automatic compensation to extend the service life, as well as increases the grinding efficiency and fineness.
In accordance with the original fineness, hardness,and toughness,materials can be grinded once, twice or more times ,and ultimately to achieve the required fineness (generally about 3-18 microns , determined by the fineness board).
4. Technical parameters:
Type

65

120

160

260

315

405

Roller Diameter(mm)

65

120

160

260

315

405

Roller Working Surface Length (mm)

140

280

320

620

760

810

Roller Speed Ratio(slow to fast)

1:2.63:7.1

1:3.13:9.77

1:206:5

1:2.5:6.25

1:2.87:8.1

1:3.14:9.77

Slow Roller Speed(r/min)

30

23

35

25

17.5

14.39

Medium Roller Speed(r/min)

79

72

72

63

50

44.39

Fast Roller Speed(r/min)

210

225

175

157

142

136

Motor Type

single-phase

Y90L-6

Y132S-8

Y160L-8

Y180L-8

Y200L-8

Motor Power(Kw)

0.55

1.1

2.2

7.5

11

15

Motor Rotation Speed(r/min)

1400

910

710

720

730

730

Overall Dimensions(mm)

L

400

800

780

1330

1560

1700

W

450

700

840

1300

550

1860

H

430

700

820

1120

1200

1400

Weight (Kg)

80

320

500

1800

2580

4200