Product Name:

Glass Lined Reactor
Product detail: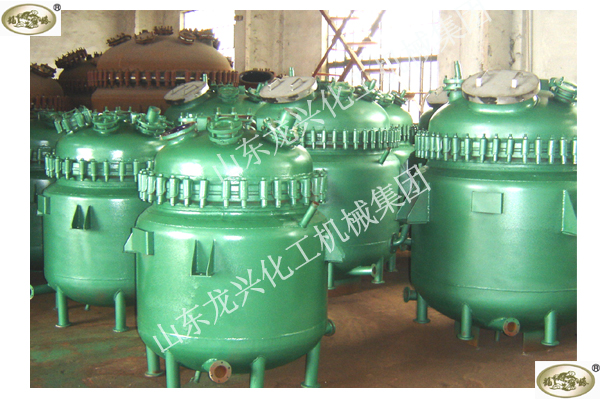 1.Descriptions:
The enamel with high silicon dioxide is lined on the inner surface of the steel container and is ignited at high temperature ,which will evenly adhere to the surface to form the smooth,clean and corrosion-resistant lining layer.As a result,the glass-lined reactor has the dual advantages of both glass stability and the matal strength, then the steel tank ensures the pressure capacity and the tank's glass lining provides a reliable corrosion resistance. In many chemical reaction conditions, the enamel reactor can not only replace the expensive stainless steel containers, but also can be widely used in corrosive conditions, which greatly expands the scope of application.The equipment is a good corrosion-resistant chemical equipment.
2.Uses:
Glass Lined Reactor is widely used in chemical, petrochemical, pesticide, pharmaceutical, food, dye, etc.
3.Features:
The Steam Heating Glass-lined reactor is ignited by the specific electric furnace.The enamel device has smooth surface, wear, heat-resistant, easy to wash, no contaminated materials, low price, not easy to crack and so on.
4.Main technical parameters:
Main technical parameters:
Type

L

Jacket Capacity

L

Tank Capacity

L

Electric Power

KW

Working Temperature

Seal Methods

Stirring Methods

Stirring Speed

50

96

71

2X4

0-200

packing or mechanical seal

anchor

85��63

100

127

128

2X6

0-200

packing or mechanical seal

anchor

85��63

200

160

247

4X6

0-200

packing or mechanical seal

anchor

85��63

300

218

369

4X6

0-200

packing or mechanical seal

anchor

85��63

500

269

588

4X9

0-200

packing or mechanical seal

box

85��63

1000

400

1250

4X12

0-200

packing or mechanical seal

box

85��63

1500

600

1720

4X15

0-200

packing or mechanical seal

box

85��63

2000

850

2160

4X15

0-200

packing or mechanical seal

box

85��63

3000

1015

3380

5X15

0-200

packing or mechanical seal

box

85��63

5000

1400

5650

5X18

0-200

packing or mechanical seal

box

85��63